This Week in Spring - June 23, 2015
Welcome to another installment of This Week in Spring! I was in London, last week, for Devoxx UK. The show was a rousing success all around. I gave a talk, a workshop, and was delighted to participate in the closing keynote, too! This week I'm in Kraków, Poland, for Devoxx Poland (né 33rd Degree) which seems to be an amazing success as well! I want to thank the organizers (Mark Hazell and Grzegorz Duda of Devoxx UK and PL respectively) for inviting me - I haven't had this much fun in a while and I love the communities that both events serve.
In addition to being in the keynote, I was privileged enough to be in this keynote-selfie for a brief moment where Arun Gupta, left, took a moment to recognize recently nominated Java Champions (second-to-left) Trisha Gee, and David Blevins and myself). Thanks very much, Arun! I post it here because it's pretty darned special to me. ;-)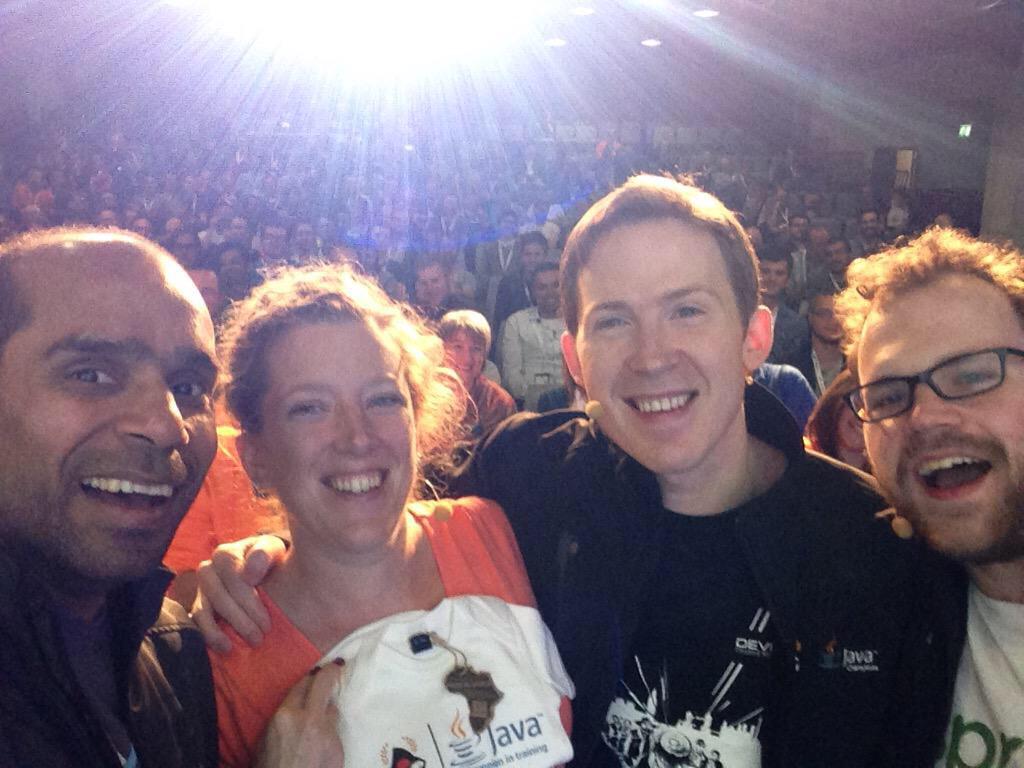 So, that said, on to that which is most special: the tide of awesome that is the great stuff in this week's This Week in Spring!
Spring guides ninja Greg Turnquist looks at the Spring team's Java 8-first approach and then announces that the epic guides have been moved to Java 8 by default.
There's a nice introduction by Biju Kunjummen to Spring Cloud Eureka and the Spring Cloud Config Server over on DZone - as succint as it is useful!
One of the really nice bits about being here in Poland is that I finally got to meet Marcin Grzejszczak and the rest of the amazing 4Finance IT team! They're responsible for some really meaty contributions to Spring Cloud, including improvements to Spring Cloud Zookeeper and Spring Cloud Sleuth which provides tracing through microservices - exciting! These improvements are contributions from their other work - a project called micro-infra-spring - which are being merged into Spring Cloud. Dziękuję, my friends!